News
October 30th, 2016
Hi all, long time no see. A lot has changed since I last updated this site and over the winter I am hoping to revamp most of the site.
Some of the larger changes are the elimination of the forum, a redesign of NK in general (the ranking system is pretty well gone), and a necessary revamp of the site to bring it into modern times.
This site has not aged well over the years and much of the information is difficult to access. I hope to bring the site to where it needs to be as well as generate some ad revenue to help pay for the growing cost of hosting. I want to continue to maintain both the NK guild and the history of this site for future Tibians.

---
October 10th, 2011
I have finished revamping the entire guild portion of the site. It now reflects the NK guild properly and is current. A few sections have been changed and updated but they are not fully fleshed out. We have a members listing which will include ingame avatars and a new place for our guild screenshots that I'll get around to uploading sometime. I have also updated several portions of the site, most notably the "History of Tibia's Items". Check these sections out. When I get more time I will update the newly added encore screenshot section to include all the pictures I have found recently.
---
October 7th, 2011
Started editing the site again. Found a ton of old links last night and ended up with plenty of screenshots that are not on the site yet. I've updated the link section to properly display all content and of course added the new content as well. Check it out, it's well worth a look. I'm also looking for the wall paper from tibia.de, the one made up of screenshots from version 4.12. If anyone knows where I can get a copy of it then let one of the NK member know so I can check it out. It's the bigger version of this picture: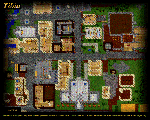 ---
July 1st, 2011
Happy Canada Day for any who are celebrating it up in Canada land.
---