Old News
May 23th, 2008
Nightmare Knights are recuiting again. For more information please read the how to join section.
---
May 18th, 2008
We are now hosting Tibia Map files so if you have lost your or dont wanna do your own mapping download them. Coming soon some new Nightmare Knights graphics and screen shots.
---
May 1st, 2008
Hi im Duke I have taken over the administration of this site from Karr. I would like to thank him for the wonderful job he did of building and hosting our guild site for the many years he did so. Over the next month I will try to revamp the site with some new content and edits to what we already have. Together we venture into the unknown where anything can happen and it prolly includes me breaking things so if stuff goes weird just let me know at dukescarey@gmail.com
---
April 16th, 2008
This site is no longer affiliated with the Nightmare Knights nor am I. Enjoy the greatness of the history section for at the end of this year it will cease to exist. I don't have the money to keep this going nor do I care for Tibia or anything else related to it.
---
February 1st/2nd, 2008
So I've just put up some more content that I found while searching around. I added several YouTube videos and a few screenshots. So you don't go searching forever, I've updated the history archive and the events from the past sections. Check out the first bit of these new sections for the additions. I really need help to get more content for the site. If you have anything that could be added to the site then please let one of my guild members know in game and they will contact me. The more people that contribute, the better this archive can become. Even if I don't play Tibia anymore I still wish to keep this site going to give all those who come after me an idea as to where Tibia has been.
I just updated the selling list to include the new Rashid Price List which is located in the Djinn Price List section, right under the Djinn list. A week or so ago I also updated some of the pictures that didn't have captions, though I didn't say anything special. Remember that I need more content if I am to update this site more often.
NK is doing fine as well, and a reminder that our forum is by request only meaning you must contact a COL in order to have an account made for you. We are now a private guild of friends so applications are limited as per the joining request link.
---
December 24th, 2007
Merry christmas everyone!
We have changed our policy on joining, hopefuly this will produce more family Nk's rather then total strangers. Also changed is the ability to post on our forum. Since we have been getting alot of problems with spamers I have made it impossible for new members to join the forum. If you need to post then you can use the help board which doesnt require an account or contact a guild member online to have them leave a message for me to make you an account. Once your account is made it is good forever.
I'm not sure when I'll have time to update the history part of the placr but I'm sure you'll know when that happens.
---
December 4th, 2007
Many changes are happening to the guild. Over the next few weeks we will rebuild the guild in the direction we want it to go. No further updates are planed for the history portion of the update.
---
August 23rd, 2007
The forum is down due to a MYSQL update. I may need to update my own version to make it compatible so the forums could be down for a day or for several. I'll let ya know through the news here when their back up.
Update: The forum is now working properly thanks to some help from my host, Powweb. They have been very good to me and have helped me with alot of questions and problems I have had, definatly worth the investment! Feel free to mention this site when signing up with them.
---
June 22nd, 2007
An update within 24 hours? Unheard of! The Premia section is now fully complete with the last of the screenshots I have. Please let me know if you have any of Premia's younger days or even some stories to fill in since I'm still fond of my memories there.
For the first time in several years I have fully updated the screenshot sections to include several hundered new shots. I unfortunatly don't have time today to flesh out the Nova section but you can be sure its coming.
I added two new sections today as well; Tibia in the begining and the flat systems. These are quite nice sections that where made a while ago but I decided to release them today.
I dedicate this update to old friends who have all gone to wayward paths. You are missed one and all!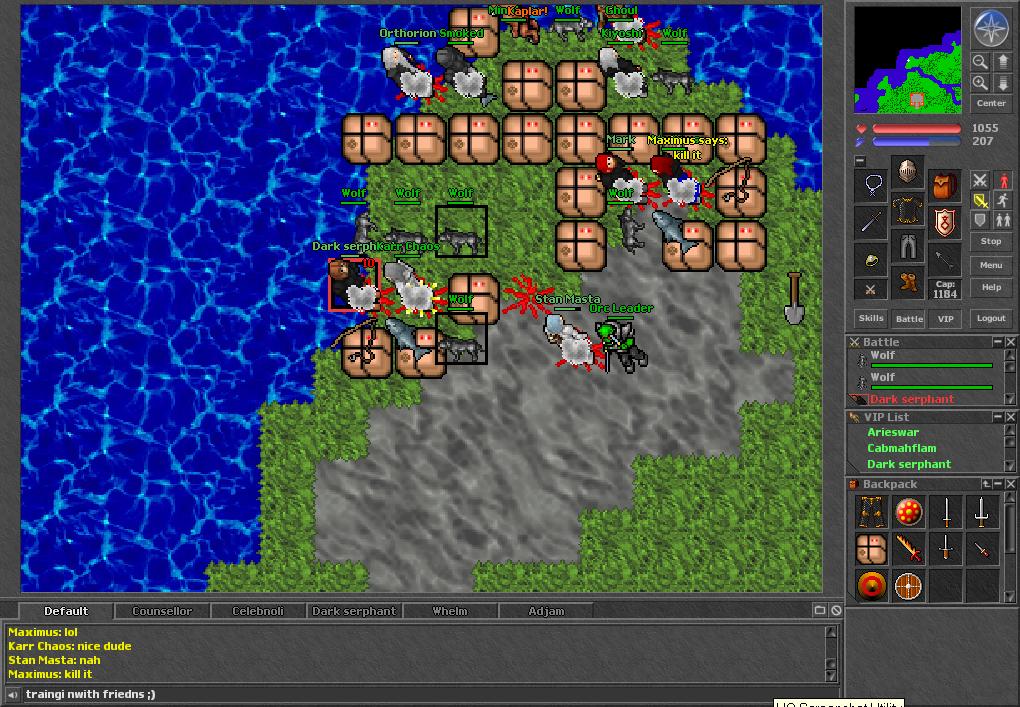 ---
June 21st, 2007
I have finaly revised this site to take into account the many changes that have occured. Due to some problems with the link program, I was unable to alter the links so I have finaly begun to revamp this. Perhaps tomorrow I will finish this revamping and add some extra content but dont bet on it. Other additions is a revised screenshot section to make loading easier and more reliable. The biggest change is the Premia section which has had some content put in it, sorry but the Nova section is still under construction. The Item History link is broken, don't worry about this for the present.
---
March 18th, 2007
We regret with sadness that after 3 years of good guild relations we must take down our treaty with Hikari due to their disbanding a while ago. We at NK would like to wish all former Hikari members good luck in whatever venture they decide to undertake.
---
March 5th, 2007
Major massive screenshot update as promised. The random screenshot section has gotten a big addition somewhere around the middle of it. Its many old screenshots, and I mean OLD! Enjoy!
Also note that NK is now recruiting again so come join us today! Sorry, you still have to make an application.
---
February 26th, 2007
I have done some minor updating today, adding new content to alot of pages. The book section is updated to enclude the Dream Challange books from Cips new quest, the item history has a few more enteries, and some other sections have some additions. Unfortunately I have not enough time today to sort through screenshots and do massive uploading. If I get some time for this then I will post that here.
POI was a total bust the other day but we will not give up. I'd like to give a special thank you to those who helped made the quest run as far as it did and to those who gave their lives to help us get that much closer to our goal. Unfortunatly this kind of quest has strained relationships all around and was a terrible mistake in the first place. A warning to all those who think they can run 200 people to do a single quest - DON'T! Onwards and upwards, we will finish this quest yet ;)
---
January 1st, 2007
The new year has arived and I'd like to take the time to point out some changes to the NK. The minumum level to join has been raised to lv 45. This was discussed for some years already but with Tibia becoming increasingly easy to level in, I simply have to update to meet with the times. The Mercenarys also had to increase their level limit (which was lv 20 when i joined) so why not us?
Interest in the guild has been booming since our return, so much so that we have to consider our guild size. We have a strong council and guild structure so we can suport many more people. This means we are finaly able to impliment squads, which will kick off in January this year. 800 people is of course far to many and even 180 is more then I wish to entertain. We will see what the future leads to.
Our site will also gain a content update, but that is dependant on time and available content to add. If anyone has any old history they would like to contribute, or perhaps a screenshot from the past, maybe even a story or short blurb, don't hesitate to stop by and let me know, I'll be glade to have it.
---
December 24th, 2006
Many great things away our guild in the comming year, in this year alone we have seen a full revivieal of the guild, our no application month put alot of players into our guild, our activity has grown tremendously, a new host for our site, and of course our presence in antica is more well known. I would like to thank all people who helped with this, without help and suport this would not of been possible. I'd also like to take this opertunity to give a personal thank you to all those who lent me money, without their help I wouldn't of been able to rebuy my home. Thanks!
No application time is closed, it went on way longer then I ever wished it to, but it was a runaway success that couldn't be stopped. No real new site changes, those will have to happen when i return before the new year. On behalf of the Nightmareknights, I'd like to wish everyone a safe and Merry Christmas and a happy and fun filled New Year!
---
November 28th, 2006
Our site is mostly down becuase we have a new host change. Becuase of this the forum will not operate, nor will we be taking any applicants. Most of our pages may not be working yet either. I will keep you all posted when these parts of the site are back up. Untill then please contact me ingame for any assistance you need, or you may also send me a letter via the tibian mail system: Karr Chaos, Venore
---
October 21th, 2006
Hello everyone! It has been a long time since I last updated this site but I shall do so now! I've added a word of the day to the top of this news page which will update everyday as part of our fostering of growth. Check out Dictionary.com for more information on reciving a word of the day, everyday!
Other news is we are having a NO application month from now till the end of November. Please contact a Watcher or myself, Karr Chaos or one of my characters, to ask for an interview. Of course you have to still qaulify as normaly, so level 30+ plus, obaying the rules and so forth are a must. This application process is deisgned for those who are weak with roleplaying stories. If you want to make it easier for us, then you can post that you'd like an interview in our forums, in the joining request forum of this site.
I realy need more old information for this site, adding old links (which is updated btw) isn't enough! I need those people who are old Antican legends to send, post, or contact me ingame to give me their stories so i can place them here. If Mulf ever becomes unlazy his story will be added here. You can already see Zamp's story, but I need MANY more! If you have old screenshots then please let me know also, I need everything i can get to keep this site updated.
---
August 16th, 2006
I've recived some reports that the site is giving people problems. I've tested different things and I'm also finding anomolies in the server. I ask that if you cannot access anything except this page that you please report it in help forum located here http://www.nightmareknights.com/forums/index.php you do not even need an account to post. I cannot fix a problem that I cannot even understand why its happening or what is happening. Alot of other editing is going to be happening in the next few days, but it will largly depend on time restaits and desireability. If you havent checked out the sections in a while ive been adding to the random screenshots page for a week or two now. The NK is always searching for new members, so look us up and see if we are for you!
---
July 26th, 2006
Seams i botched the link bar i made. here is a temporarly link to get you through the few days it will be before im able to repair this. http://www.nightmareknights.com/forums/index.php
As you can see this place is being rebuilt slowly, lets hope i get more time to put into making this better!
---
July 22nd, 2006
Added all the screenshots from my WoT thread to the screenshot section as well as added two new sections to the history projects part. I added a random screenshot page filled with every other old screenshot I have that I didnt post at de. also is a page filled with the 27 pages of old WoT forum topic names and some info, dont click on the links as they go no where. If i could get someone to translate it that would be lovely, babble fish pulls an error when i try to use it.
I am also working to revamp other portions of this site to make it easier to navigate and see information. Regretably i am unable to change the collor scheme at this time, sujestions are always welcome at our nk forums (which need an overhaul too)
---
June 7th, 2006
Just edited a few sections, i would like to thank Lady Starfall for editing some of my words to make it easier for people to read. I would like to aquire pictures from premias demon quest that i participated in some time ago. I am going to make a tale about that event but i need more screenshots of that event, or early premia in general. Please let me know if you have any and would like to donate it, my email is lordchaos_3@hotmail.com
---
May 2nd, 2006
No application month is now finished, so you will need to make an application and post it on our forum like we previously had. I want to thank everyone who applied and those who helped process the mountains of applications we recived. If you wish to join, you can still do so by checking out our joining section of this page then following the instructions.
I am also working on the history section of the site to bring it up to speed with the histroy I have recived. As always I welcome contribuations to the history project. I will be revamping a large number of the current documents and text peices here to make them easyer to read and more gramaticly correct.
---
April 19th, 2006
A reminder that it is still NO application month. You just need to speak to a Watcher or watcher assistant and ask for an interview. You can additionaly post on our forums and ask for an interview. Just remember that you still need to be level 30 or more to join.
Also please continue to supost our ongoing history project. The results of your current contributions can be seen with some of the newly revamped areas. This is definatly a long work in progress so everything you can donate is appreciated!
---
March 06th, 2006
In an effort to take my mind of the flue thats been killing me for weeks and a nagging desire to play Tibia which I wish to ignore, I've decided to update the site a bit. I will update the item section a bit, totaly revamp the history section and work on some other bits that have been neglected.
Please remember to give me every peice of Tibia history you can think of, there is alot of stuff missing that I need to include. Oh and for this month the NK will be doing something different then our current joining process, hopefuly this will make it easyer for us accept new members and get this guild going again!
---
November 11th, 2005
On this rememberance day, we remember all those who have faught bravely in war and parished. I ask that those out there post on my nk forums or contact me with all of Anticas war and related information so we can remember the fallen characters that shaped our world, the first world of Tibia.
I also started adding somemore stories, i hope to orginize this all a bit better then i have been. The NK is recruiting as always, and is looking for hardcore dedicated people for our guild!
---
October 4th, 2005
As anounced today on the Tibian forums, I've decided to revive the purpose of the Nightmare Knights. Their purpose, as is writen in the codex I set over two years ago, is the rudimentary development of loyalty, teamwork, trust, respect, and unity; the mastery of understanding and applying the Eight Virtues to every day life; and the continued process to presurve, nurture, and rebuild the core structure of the Tibian world, its people, and its history. I wish to focus on the core, public goal of the guild, the presurvation of history and its priciple lessons. Some of the earlyer contributions are already on this site, located in the new link "Tibia's History," but we need alot more. Also notice that the screenshot page is being worked on, which will be ready within a week or so depending on how much work I have. Help keep the past alive, post on our forums, mail me a letter to my Venore depot, or speak to me ingame.
---
September 13th, 2005
Hey all, its Karr Chaos here. It's been a year since i updated this but i thought i better start updating this to match current times. Are you interested in joining the NK? Take a peak at our Joining Us link located over on the side bar there and post an application in our Guild Forum after registering. Remember that you must be atleast level 30 to join, and meet other criteria as stated there.
Please excuse the mess of some links and slopy pages, i am a student and i can only work on this when i have free time so alot of things will be construction like. THIS site will be great when it is finished.
---
December 26th 2004
It's been an even longer time since i last updated, especialy with the war and everything that has happened. Give me feedback please, its the only way to grow.
---
September 2nd 2004
Well it has been another huge gap since i last updated this ghetto site yet i think its time to start revamping many areas. In the next week or so please look for some serous change in both the content of the site and the reworking and adding of new sections. A primary focus shall be adding history on the Nightmare Knights as a ingame legend, a section on key terms and terminology, purpose and goals section, conflict and resolution guide for those looking to solve problems and much more! It's high time to put some energy into this guild! note of changes: -changed the codex signifigantly. -will add some new sections, including a members reference. -artical on smoked deleation may be posted soonish. -general revamping.
---
May 28th 2004
It's been a hell of a time since i updated this but its more then time to do it. I have changed all sections to acomidate the changes over the many months we have changed. We also have a direct link to take you to our forums, just create an account if you wish to post there. I will be adding new sections today aswell. Recruiting is closed due to some revamping.
---